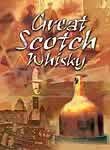 This DVD introduces Scottish and scotch history, then takes a tour of some scotch and Irish whiskey distilleries. The majority of the video is a visual tour of whisky distilleries, yet it's not quite as educational as going on the actual tours. In other words, I didn't learn anything from watching it.
The DVD visited the distilleries of Glenfiddich, Glenlivet, Glenfarclas, and Bushmills, and maybe a few others that I didn't write down, with lots of countryside scenery images thrown in for good measure. Overall, it's a fine Sunday afternoon PBS-while-cleaning-the-house video, but nothing that will blow your mind.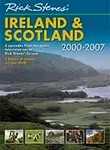 Later I watched Rick Steves' Ireland and Scotland 2000-2007. Steves only visited one distillery, plus the Scotch Whisky Experience in Edinburgh. He spent a large amount of time touring Scotland and driving on country roads, as well as hanging in pubs in Edinburgh. While not a whisky video, it was a nice introduction or warm-up for those going on a whisky tour of Scotland.
And on that note:
I'm going to Scotland!!! I just signed on for a seven distillery tour with DISCUS in May, and I'm very, very happy about it.
But the more I look at these video tours, the more it feels like I won't be seeing as much of the country as I want. We're just hitting Highland/Speyside distilleries (Only seven? But there are 40! What about Islay? Can we spend more time in Edinburgh?) and I'm trying to resist the temptation to go nuts and extend the trip for too much longer. Damn that Rick Steves for making it all look so cool.