This is part of an ongoing project reviewing every booze DVD on Netflix.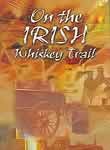 Wow! Who knew whiskey could be so boring? On the Irish Whiskey Trail leads us through Irish and Irish whiskey history and production, and takes us to visit the Jameson, Bushmills, Middleton, and Locke's whiskey distilleries. On the way there are three full musical interludes during which we're treated to a traditional Irish song at a much higher volume than the rest of the video, while being shown countryside slides.
While the Scotch Whisky Trail DVD was pretty entertaining and got me psyched for my upcoming visit to Scotland, this one was painful to watch and got my psyched for the ending.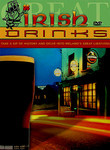 Going with the theme, I next watched Great Irish Drinks (2003), a DVD that purported to visit the same distilleries as On the Irish Whiskey Trail.
As it turns out, it not only visited the same distilleries, it used the same footage, and in some places the same voice-over narration. But either it was a better and more lively edit or I was just in a better mood, because I enjoyed this one more than the first.
Labels: irish_whiskey, video, whisky